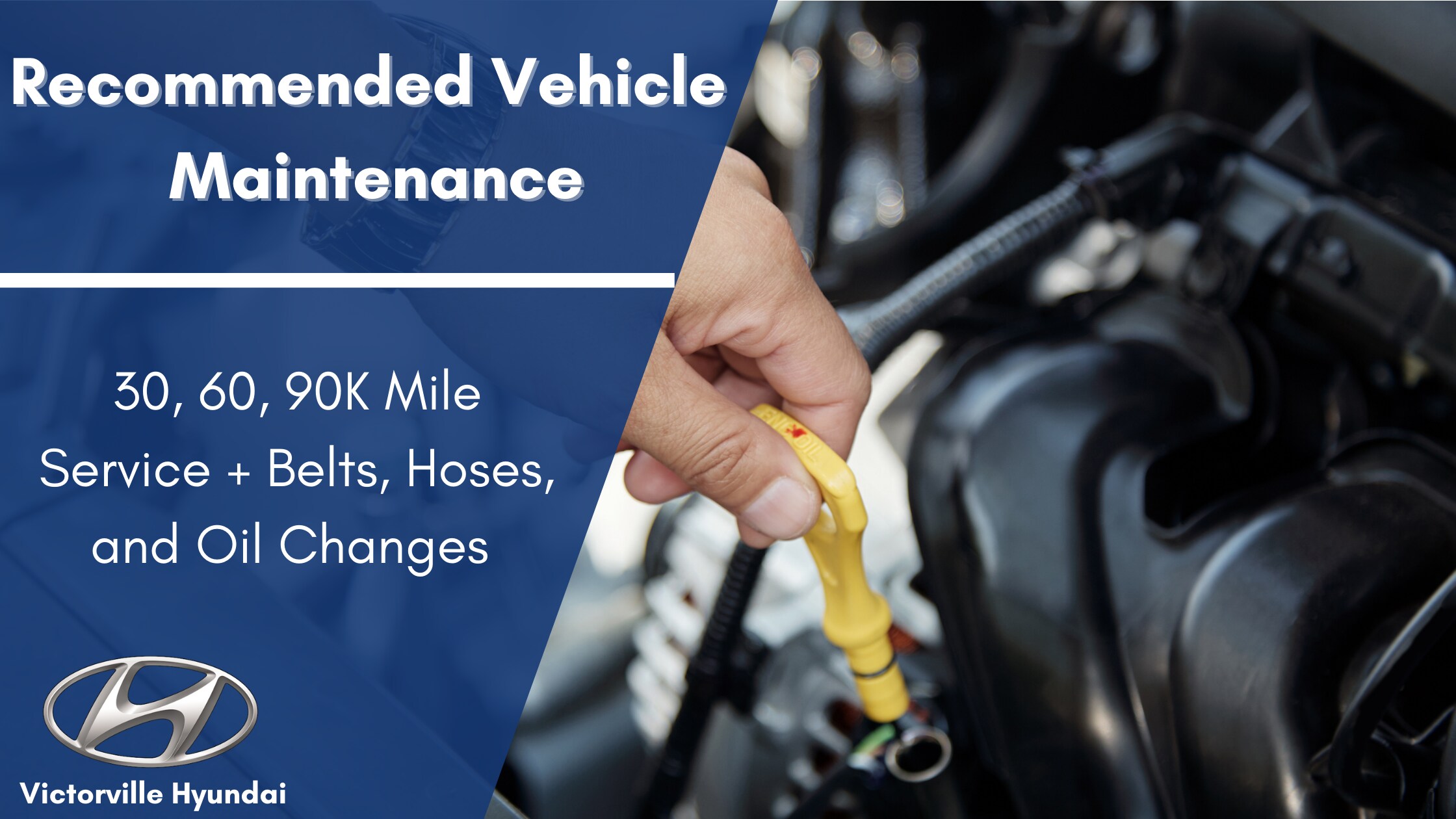 Have you ever wondered if the recommended maintenance for your vehicle was actually necessary?  Hyundai's have come a long way, and with the intense computer systems built into them do we really need to abide by the 30, 60, 90K mile service schedule that has existed since...forever?  
There are certain items in your Hyundai that need to be checked on regular intervals.  Meaning at 30,000, 60,000, and 90,000 miles spark plugs need changed, your transmission fluid needs flushed, etc.  This protects the overall health of your Hyundai. 
The recommended maintenance doesn't mean that you won't have maintenance items come up in between the routine maintenance for your vehicle.  your Hyundai has consumable items just like the pantry of your house. Your windshield wipers, oil, rubber hoses, and gaskets will likely need to be replaced at regular intervals and sooner than your recommended maintenance times.  
Follow this recommended maintenance schedule for your Hyundai and suggested maintenance schedule for your vehicle consumables:
If you own a new Hyundai, your car comes standard with a synthetic oil blend.  You should only need to change your oil and oil filter every 7,500 miles.  However, many trucks, SUVs, sedans, coupes, and hatchbacks will require an oil change every 3,500-5,000 miles.  Changing the oil of your Hyundai is required maintenance as it helps to keep the engine running smooth and free of debris. 
Hours
Monday

7:30AM-6:00PM

Tuesday

7:30AM-6:00PM

Wednesday

7:30AM-6:00PM

Thursday

7:30AM-6:00PM

Friday

7:30AM-6:00PM

Saturday

8:00AM-1:00PM

Sunday

Closed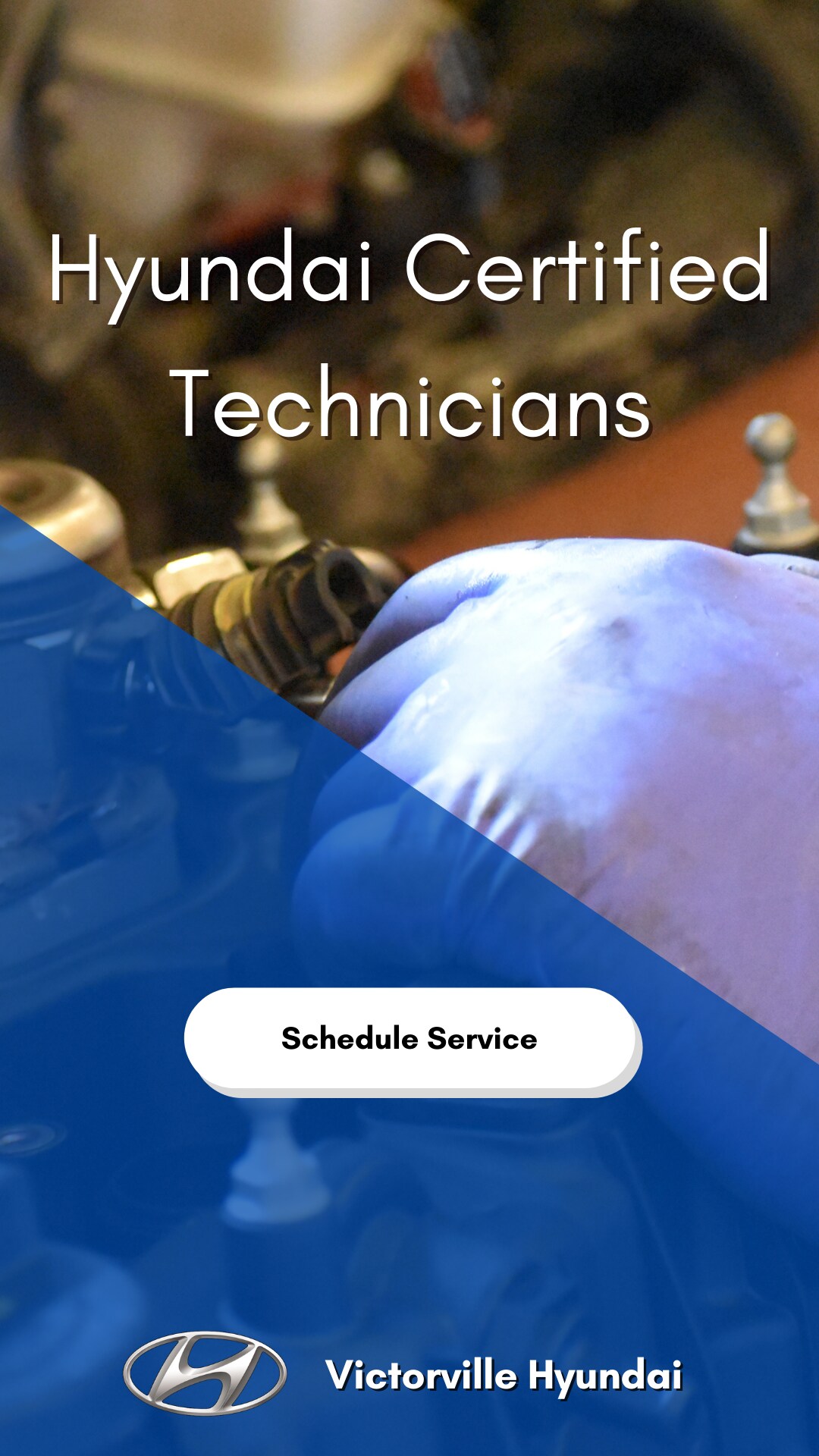 Brake Pads, Brake Rotors, Brake Fluid
Your brakes are a complex system in your Hyundai.  Proper and timely maintenance can help to ensure you and your family's safety.  The brake pads, rotors, and fluid all have different wear and tear/replacement schedules.  
Brake fluid needs replaced every 20,00-45,000 miles, but see your owner's manual to confirm.  If the brake fluid goes unchanged in your vehicle, in can become contaminated with water.  When this occurs it turns to gas which is compressible.  This can cause your brakes to feel "squishy".  
Brake pads are designed to wear out.  They typically make a squeaking/squealing noise when it is time to replace them.  All brake pads will wear differently depending on your driving habits. 
Brake rotors can warp over time.  You can either replace the rotors or have them ground down so they are smooth again at roughly 60,000 miles.  Resurfacing can be done only one time per set. 
Extreme temperatures, such as the the hot and cold temps we get in the Apple Valley and Hesperia areas, age and lengthy periods of non-use can affect your battery health. Your battery will likely need replaced every 50,000-60,000 miles. 
Air filters typically need changed in your vehicle every 15,000-30,000 miles.  A clogged air filter causes your engine to work harder and negatively impacts performance.  This is especially likely in dusty environments such as the Victorville and Barstow areas. 
Antifreeze is the thing that flows through your radiator to help keep your car cool.  If you loose the coolant, it can cause your engine to overheat.  Victorville Hyundai recommends replacing this roughly every 60,000 miles. 
Low transmission fluid can cause your Hyundai to have shifting problems.  Healthy fluid in your transmission will be pink and smell sweet.  Bad transmission fluid will be red or even brown, and smell burnt.  You can generally plan to change your automatic transmission fluid every 30,000-100,000 miles depending on the vehicle.  Please consult your owner's manual for exact specifications. 
Hoses
Rubber ages and cracks can form.  If/When this happens it can cause coolant leaks and other larger issues to occur in your Hyundai.  Our certified technicians at Victorville Hyundai recommended have these inspected when your vehicle is in for maintenance and changed/replaced as need. 
Sparks Plugs
The check engine light is one of the most gut wrenching lights that can turn on in the instrument cluster.  However, it can be a very simple of issue of replacing your spark plugs.  Depending on the spark plugs that you invest in, your Hyundai will need them replaced every 90,000-100,000.  However, if you use a cheaper spark plug, you may need them replaced every 30,000 miles. 
Timing Belt
Cars that utilize a timing belt versus a timing chain require a bit more maintenance.  Our certified technicians at Victorville Hyundai recommend a preemptive maintenance on this item at 75,000-90,000 miles.  This can help to ensure that your Hyundai doesn't experience a belt failure that can lead to catastrophic damage.  
Vehicle maintenance milestones are important to
schedule service
for in a timely manner.  However, it's important to remember the less notable milestones for the more consumable items inside of your vehicle.  This can help ensure that your Hyundai has a a long and a happy commuter life in Victorville.